You Belong Here: How RVA Organizations are Creating and Communicating About DEI Programs
10/05/2022 05:00 PM - 07:00 PM ET
Location
Common House – Union Hall South
303 West Broad Street
Richmond, VA 23220

Description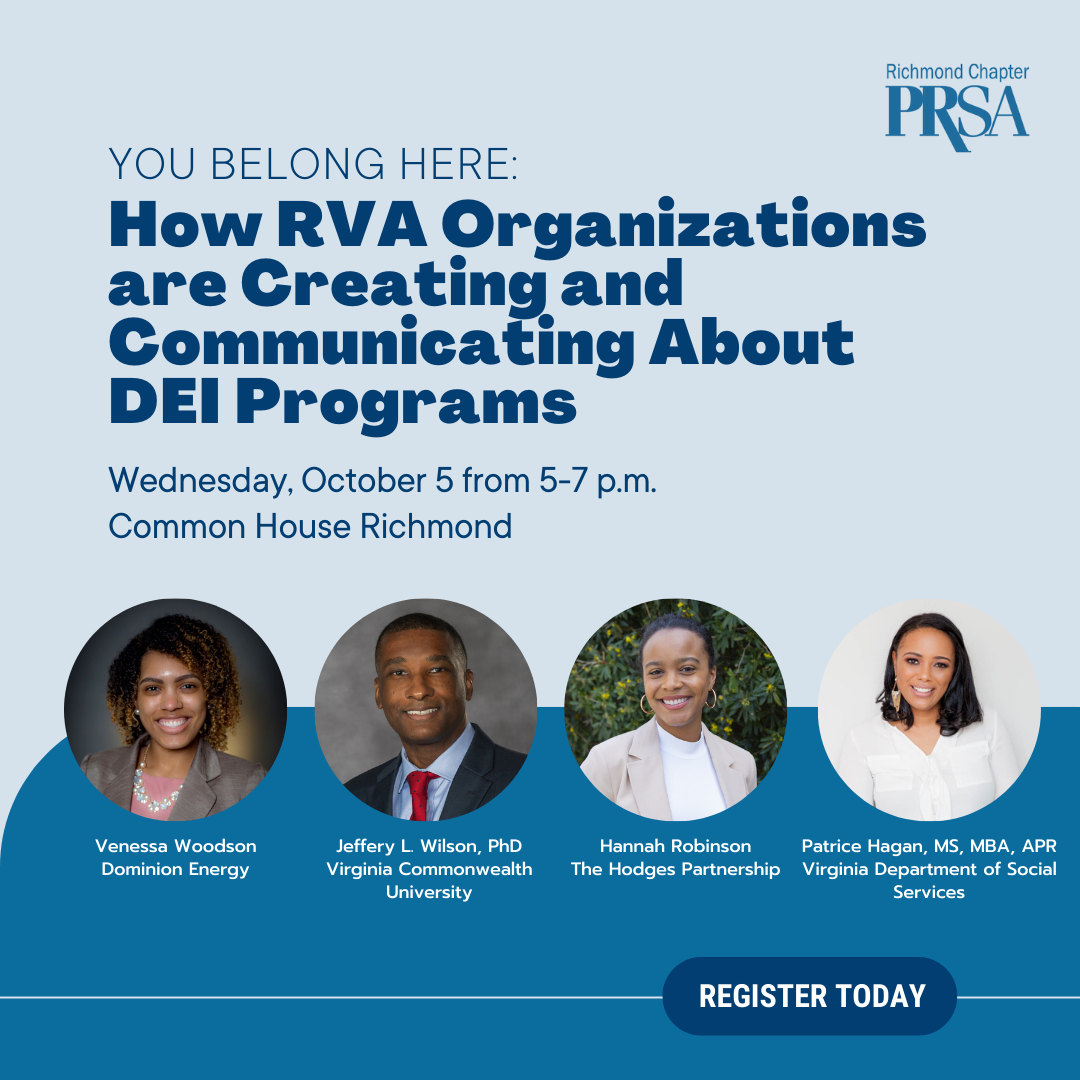 We know diversity, equity and inclusion programs aren't just the right thing to do, they make business sense. Prioritizing DEI can lead to greater financial performance, retention and employee satisfaction. How do we create, sustain and continue to expand impactful DEI programs? And what does it mean for communications?
Join PRSA Richmond as it kicks off DEI Month with a panel discussion featuring local leaders highlighting the importance of DEI programs through a communications lens.
Panelists will focus on:
- What do effective DEI programs look like?
- How to start DEI initiatives at an organization and get buy-in from senior leadership.
- How DEI programs support recruitment, retention and mentoring
- How small and large organizations from different sectors are approaching DEI
- DEI metrics organizations are paying attention to
- How DEI is evolving by including belonging and accessibility
- Communicating about DEI programs internally and externally
Panelists include:
Patrice Hagan, MS, MBA, APR
Assistant Deputy Commissioner, Employee and Organizational Strategy
Virginia Department of Social Services
Hannah Robinson
Account Executive
The Hodges Partnership
Jeffery L. Wilson, PhD
Associate Dean, The Graduate School
Associate Professor, Higher Education
School of Education
Virginia Commonwealth University
Venessa Woodson
Diversity, Equity and Inclusion Manager
Dominion Energy
The event is organized by PRSA Richmond sponsors The Hodges Partnership, Padilla, Richard T. Robertson School of Media and Culture at VCU, Dominion Energy and CarMax.
Registration
Students: Free
Members: $5
Non-Members: $10
Ticket fees will be donated to the Richmond PR Foundation's Jeff Wilson, APR Scholarship of Excellence.