You Belong Here: How RVA Organizations are Creating and Communicating About DEI Programs
10/05/2022 05:00 PM - 07:00 PM ET
Location
Common House – Union Hall South
303 West Broad Street
Richmond, VA 23220

Description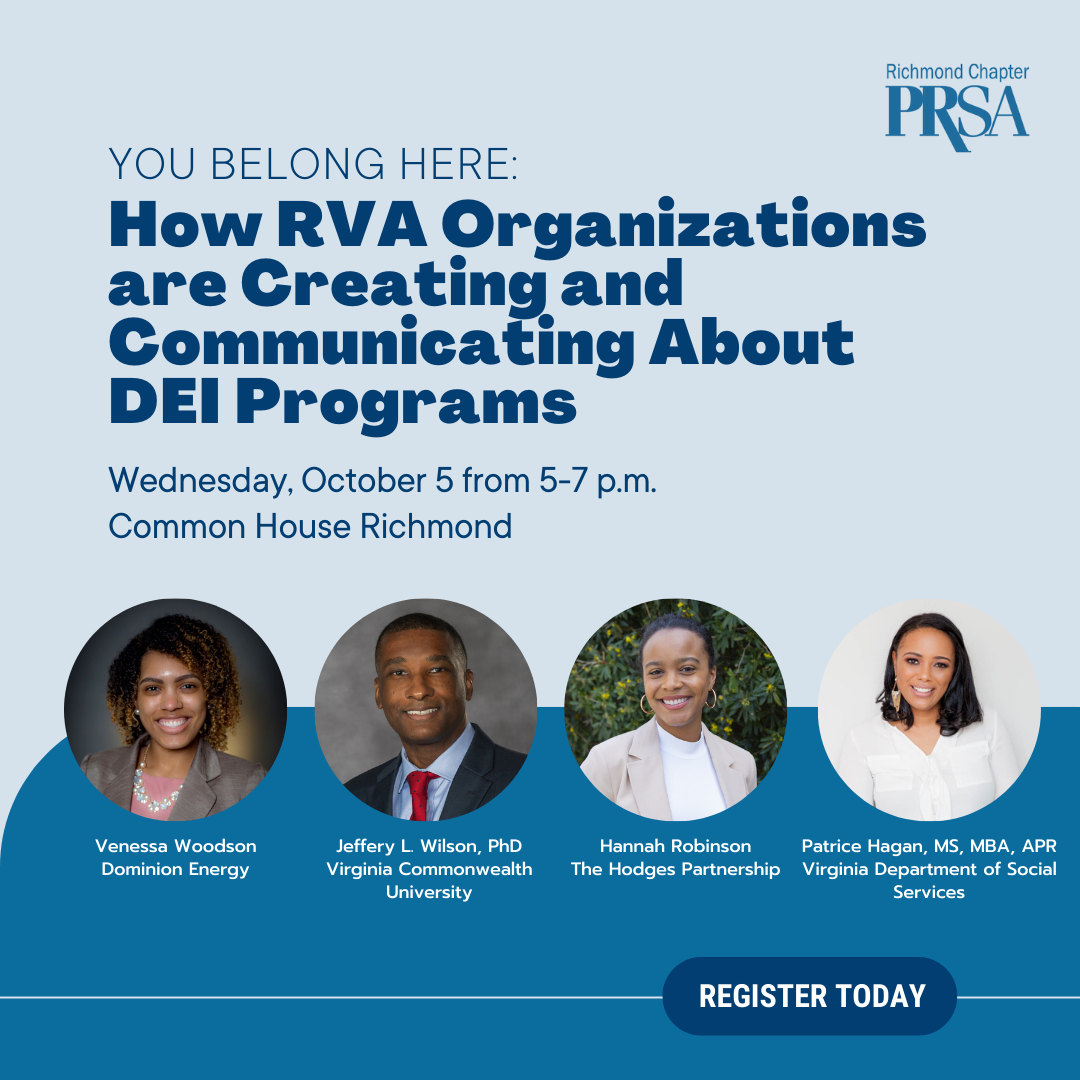 We know diversity, equity and inclusion programs aren't just the right thing to do, they make business sense. Prioritizing DEI can lead to greater financial performance, retention and employee satisfaction. How do we create, sustain and continue to expand impactful DEI programs? And what does it mean for communications?
Join PRSA Richmond as it kicks off DEI Month with a panel discussion featuring local leaders highlighting the importance of DEI programs through a communications lens.
Panelists will focus on:
- What do effective DEI programs look like?
- How to start DEI initiatives at an organization and get buy-in from senior leadership.
- How DEI programs support recruitment, retention and mentoring
- How small and large organizations from different sectors are approaching DEI
- DEI metrics organizations are paying attention to
- How DEI is evolving by including belonging and accessibility
- Communicating about DEI programs internally and externally
The event is organized by PRSA Richmond sponsors The Hodges Partnership, Padilla, Richard T. Robertson School of Media and Culture at VCU, Dominion Energy and CarMax.
Registration
Students: Free
Members: $5
Non-Members: $10
Ticket fees will be donated to the Richmond PR Foundation's Jeff Wilson, APR Scholarship of Excellence.
Meet the Speakers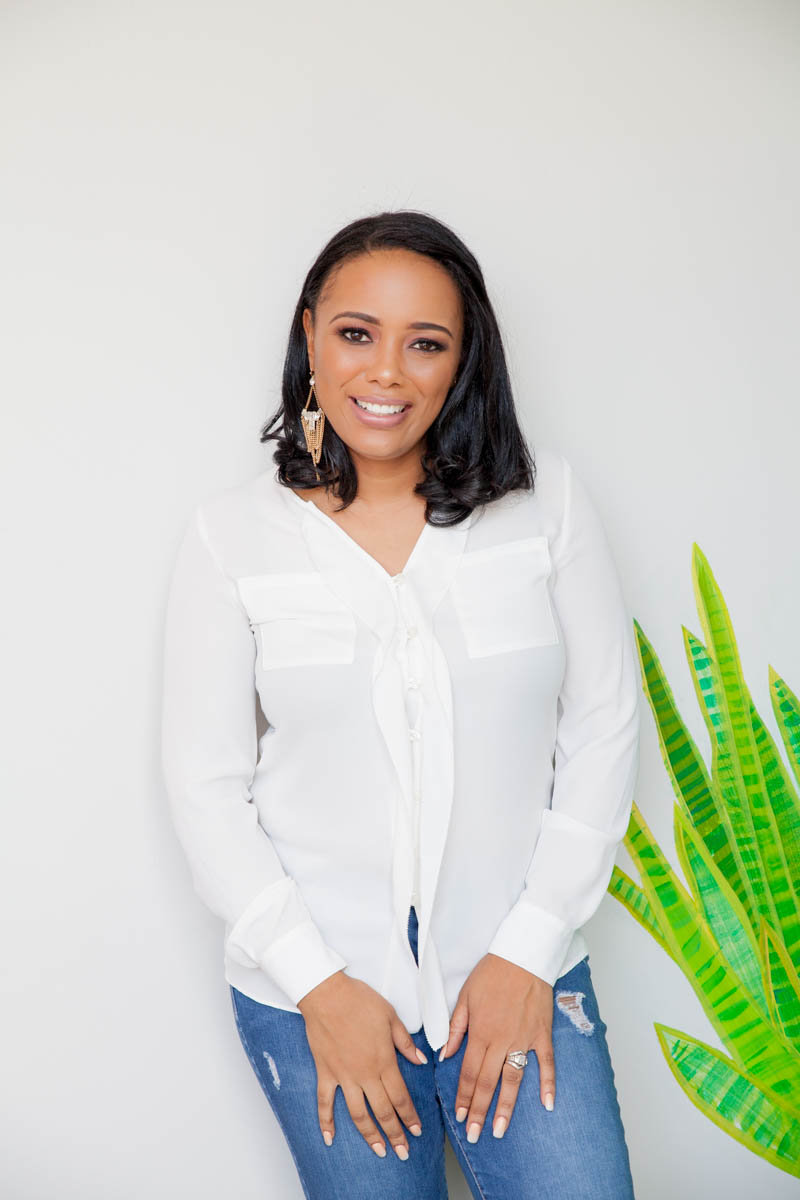 Patrice Hagan, MS, MBA, APR
Virginia Department of Social Services
Patrice Hagan is a Pennsylvania native but has lived in Richmond for nearly 20 years. With over 15 years of professional experience in brand strategy, PR and communications, Patrice currently serves as the first Assistant Deputy Commissioner of Employee and Organizational Strategy for the Virginia Department of Social Services.
Patrice previously held leadership positions at Altria, Capital One and Johnson Marketing INC. She also served as an Adjunct Professor for seven years at VCU's Robertson School of Media and Culture, instructing both undergraduate and graduate students in various PR-related courses. Throughout her career, Patrice has advocated equitable spending while managing multi-million dollar marketing budgets, spearheaded the creation of a multi-million dollar philanthropic effort designed to support Black owned businesses, and conceptualized and implemented statewide awareness campaigns that included groundbreaking imagery and inclusive language.
Patrice earned a Bachelor degree in Mass Communication from Virginia Union University, a Master degree in Strategic Public Relations from Virginia Commonwealth University and an MBA in Marketing from South University. Patrice is also an APR.
Patrice married her college sweetheart, Barry, and together they have a 7-year old son, 4-year old daughter and five month old baby boy. Patrice enjoys spending time with family, cooking, reading, traveling, listening to music and writing.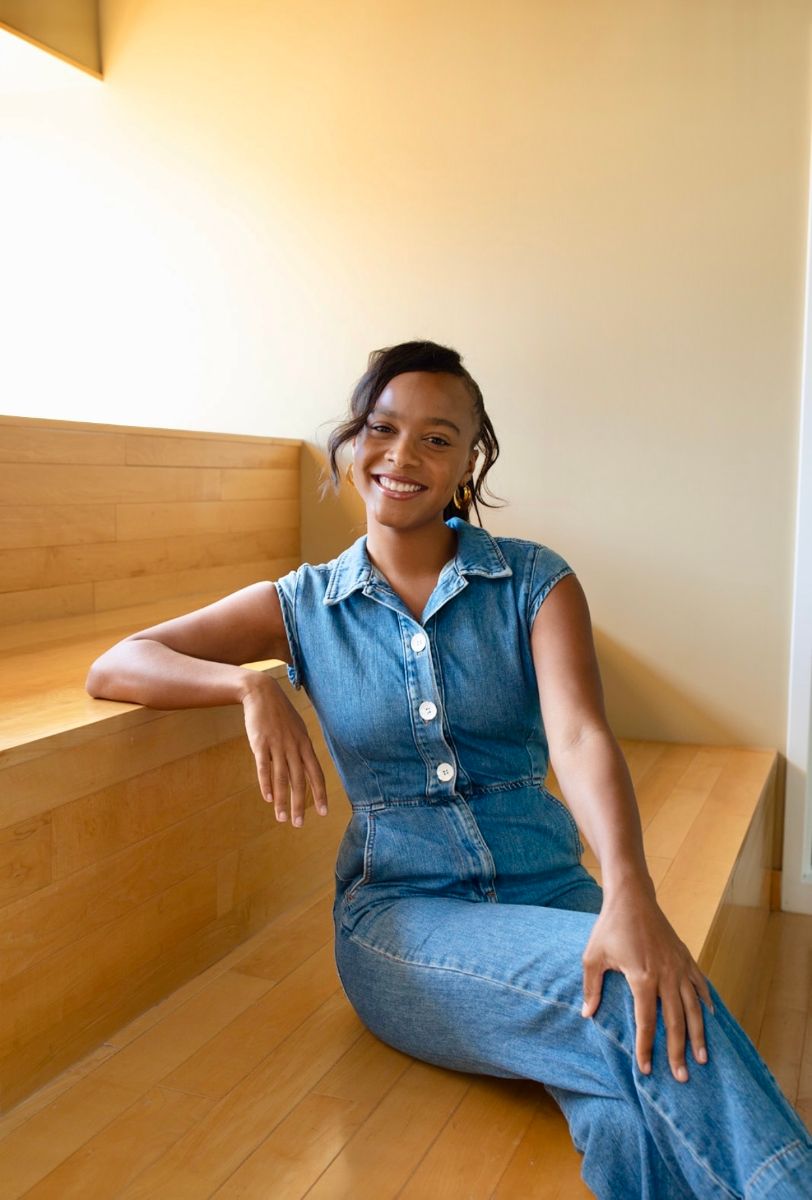 Hannah Robinson
The Hodges Partnership
In 2020, Hannah made the transition from higher education to agency life and hasn't looked back since.
As a graduate of JMU's School of Communications Studies, Hannah has always had a passion for connecting with people and sharing their unique, important stories. Hannah enjoys the thrill and diversity the PR world has to offer and is her happiest work self when handling media relations, community relations, and content marketing for clients like Children's Hospital of Richmond at VCU, No Kid Hungry Virginia, Richmond Region Tourism, Virginia's Community Colleges and more. By combining creativity with research and strategic thinking, she helps her clients engage with their target audiences in a thoughtful and impactful way.
Hannah currently sits on the PRSA board leading the Young Professionals sector and lives in Church Hill where she enjoys tending to her plant babies, writing poetry, cooking lavish meals, and spending time with loved ones.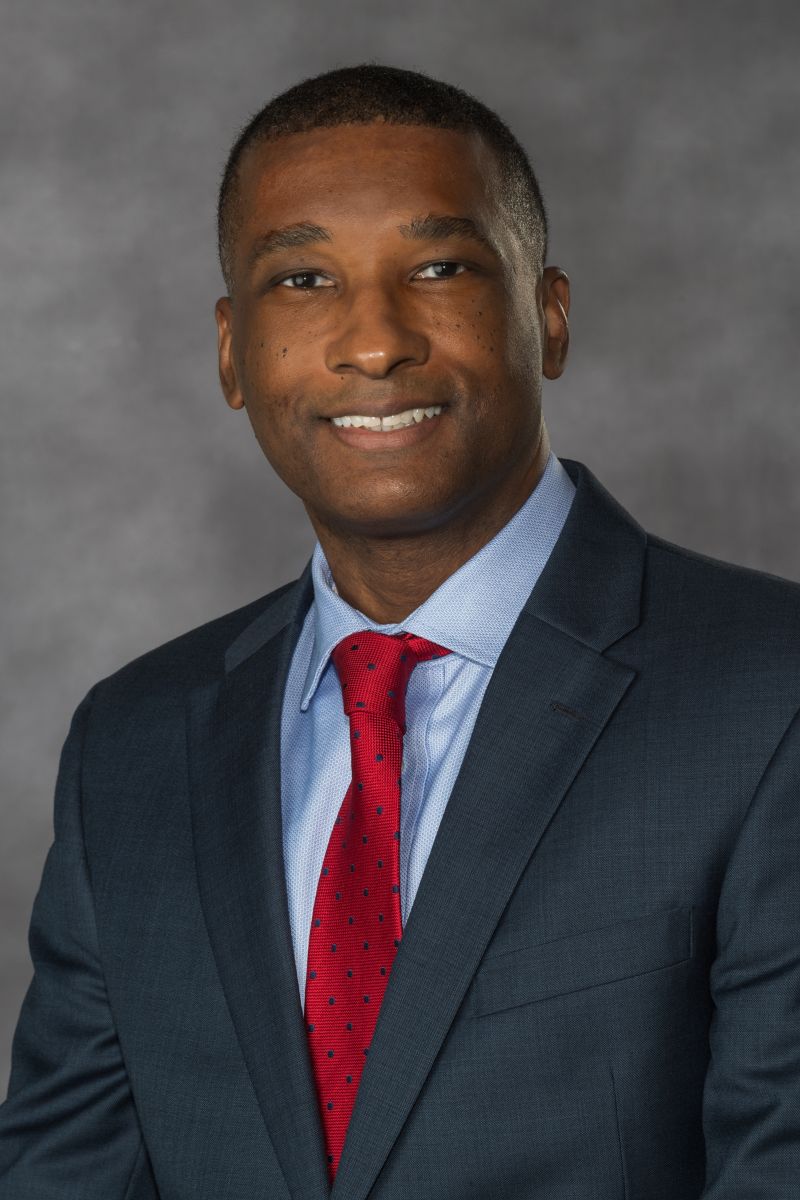 Dr. Jeffery Lamont Wilson
VCU School of Education
Dr. Jeffery Lamont Wilson is Associate Dean of the VCU Graduate School and Associate Professor in the School of Education's Department of Educational Leadership. He serves as principal investigator to VCU's recently secured Ronald E. McNair Postbaccalaureate Scholars Program.
Before coming to VCU, Dr. Wilson served as Program Coordinator for the Higher and Adult Education Program and Interim Director of the Center for the Study of Higher Education at the University of Memphis. Dr. Wilson completed his doctoral studies in Educational Leadership with a specialization in Higher Education Leadership at the University of Nevada, Las Vegas.
Prior to UNLV, he completed his master's degree in Student Affairs Administration at the University of Nebraska-Lincoln and his undergrad at Virginia Commonwealth University. At Nebraska, Dr. Wilson participated extensively in student service projects within the Division of Student Affairs gaining exposure to multiple areas focused on student development such as Student Involvement, Multicultural Programming and Career Services.
Dr. Wilson's research is centered on diversity and leadership in higher education. He serves on the editorial board for the Journal of student Affairs Research and Practice and the Journal of Diversity in Higher Education.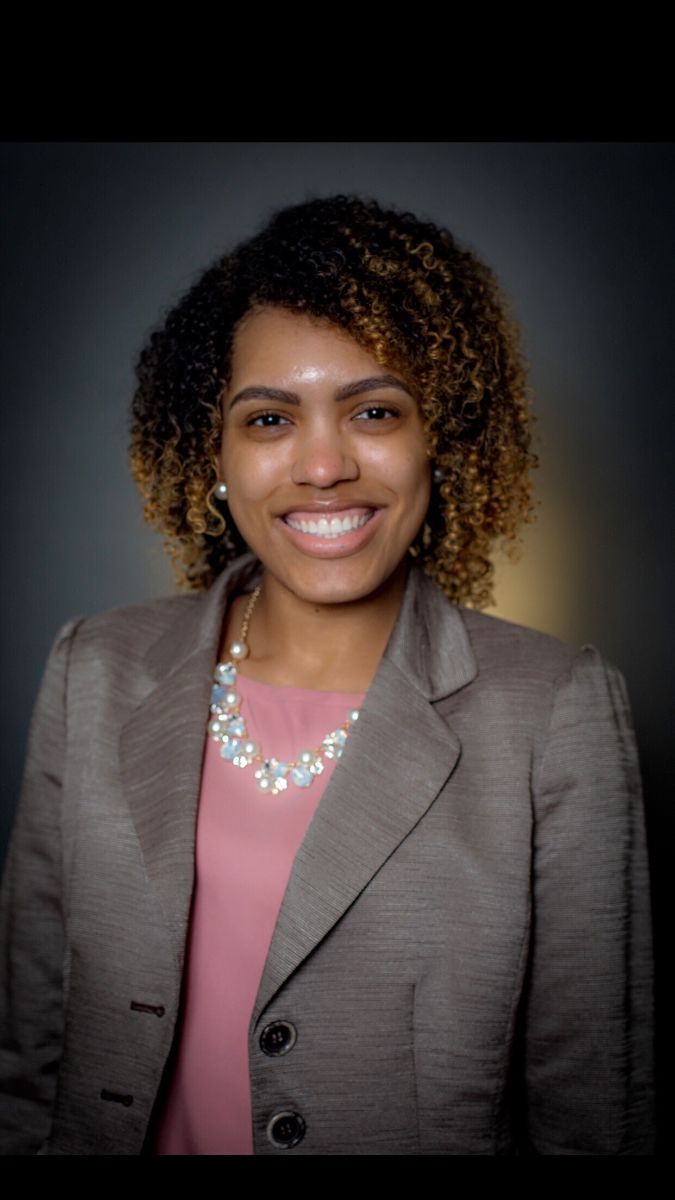 Venessa Woodson
Dominion Energy
Venessa Woodson is currently the Manager of Diversity, Equity & Inclusion at Dominion Energy. She has held previous roles in IT throughout her career. All of these roles have contributed towards Venessa's effective leadership, exceptional communication skills and helped her learn how to deliver results in a high demand environment.
Venessa is originally from Staten Island, NY but slowly made her way down the east coast. She attended Howard University in Washington, DC, with a Bachelor of Science in Electrical Engineering. She began her journey at Dominion Energy in Richmond as an intern in 2013, ultimately receiving a fulltime position and starting out as an associate network analyst in the summer of 2014.
In addition to her day job, Venessa spends time volunteering and contributing towards the initiatives that she is passionate about. At Dominion Energy, she is currently on the advisory board of the Young Professionals Resource Group, acts as the Recruiting Lead for the African American Resource Group, and is also a Wellness champion for the workplace. Outside of Dominion Energy, she acts as a Scholarship advisor for the Virginia chapter of the American Association of Blacks in Energy, sits on the Board of MENTOR VA and acts as a mentor for young professionals who are trying to navigate their career.